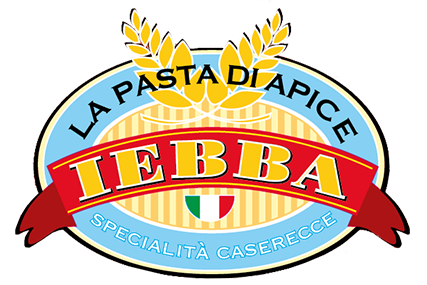 La pasta di Apice
Iebba
---
The Iebba pasta factory was founded in 1988, following the evolution of the market it decided to devote itself exclusively to the sectors of large-scale distribution and medium-high level catering. Our pastas are produced only with the best durum wheat flour.
Paccheri, Amalfi scialatielli, positano scialatielli, petacce, calamarata, napoletanicaserecci fusilli, tagliatelle, pappardelle, lasagna sheets, candles etc ... packed in ATM product duration 120 days.
---
The art of
making pasta
---
Our fresh pasta is processed with the ancient traditional method of Italian housewives  
Orecchiette, cavatelli, trofie, Calabrian fusilli, barks, packed in atm product duration 120 days.  
We produce fresh stuffed pasta made from ricotta, such as large ravioli, large daisies and panzarotti.
These products can be stuffed with ricotta, spinach and parmesan or with only ricotta and parmesan, or on request with various fillings, product duration packaged in atm 90 days.  
We produce dry pasta produced at slow drying at low temperatures with bronze dies that give the pasta that roughness that helps the absorption of seasonings.
---
The artisan production systems make the company a sure guardian of the oldest traditions of Campania and guarantor of the genuineness and high quality of the pasta.